Home
Junior Forest Rangers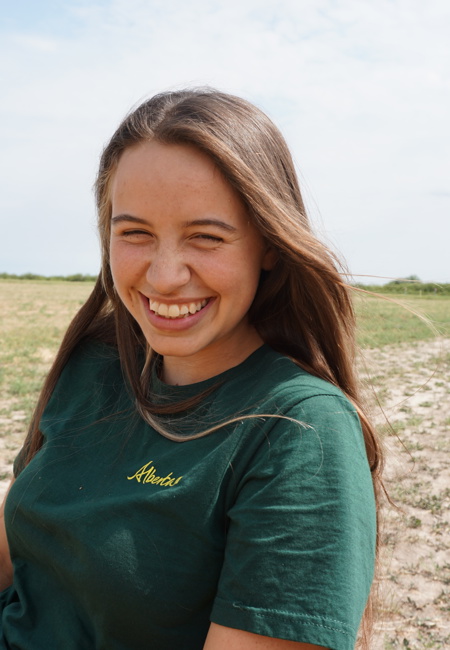 Ana is a first year JFR Member who is spending her summer in the Peace River Forest Area.
Tell us a bit about yourself
I'm from Calgary, just graduated high school and am taking a gap year. I love most outdoor/endurance sports, visual arts and reading. I'm 100% a cat person. Another fun fact - since this photo was taken, I cut off 14 inches of hair. 
Why did you apply to the JFR program?
As soon as I heard about this program, I knew it was perfect for me. It has always been my goal to pursue a career in environmental sciences, to get the chance to meet a variety of specialists, learn about possible education paths and careers, and make friends who have the same interests as I do - all at such a young age - was an opportunity I couldn't pass up. This is pretty much my dream summer job.
What are you most excited about for the upcoming summer?
So many of the activities we've already done surpassed all my expectations, and I was wildly excited to start with. I'm still hoping to do a mock fire cleanup, because I've developed an interest in being on a Unit Crew since starting the JFR program and would love to experience everything I've learned about. 
What is your dream job?
My dream job is working for a conservation organization as a wildlife biologist, or in environmental consulting. If that doesn't pan out, I'll be a professional chocolate tester. 
Describe your leaders with a pop culture (or other) reference.
We decided to describe our leaders with vine references.
Jen: "Roadwork ahead? Uh, yeah- I sure HOPE it does"
Rachael: "Look at all those chickens!..."