Home
Junior Forest Rangers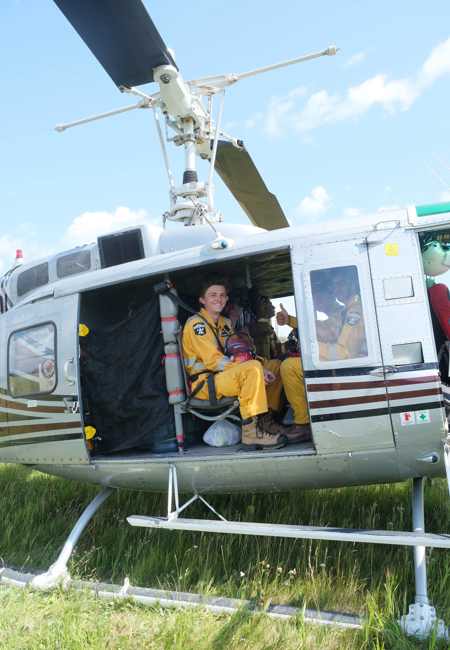 Fisher is a first year JFR Crew Member in Lac La Biche! Hear about his experience in his own words below. 
Tell us a bit about yourself
I'm 16 years old from the town of Cochrane, just 20 minutes outside of Calgary. I enjoy football and participate in my school's band. Drumming is something I have gotten into over the last few years, using what I've learnt from band to help start me off. Backcountry camping in Kananaskis is also something I do for fun. Having the mountains so close to home is what has connected me with the outdoors. Being able to go into the mountains and camp in them away from everything is an experience that's like no other. Seeing how much involvement there is with the outdoors in JFR is what brought me to apply. It seemed like an experience that I couldn't let slip past me.
How has your experience been so far with JFR?
So far, my experience has been life changing. There are so many more things I've learnt in the past 5 weeks than I ever thought I would. Experiences through work projects, living away from home, spending time with my crew and making it through some hardships has taught me a lot and even showed me there's still plenty I have to learn and go through in the future. Every day was different and each of those days will be remembered. I know that all I've learned so far and still will learn will stick with me for a long time, and I know there's still a lot more fun experiences up ahead that will keep changing me and making me into a better person.
What makes you happy?
What makes me happy is spending time with people. Not only spending time with them but making new friends. Meeting new people and growing a relationship with them is something that I find to be the best experience. Seeing the relationship grow with friends and looking back at all the changes is the best feeling. Being able to connect with others and grow a bond with trust makes me insanely happy. JFR has really helped show me that's what makes me happy. Through the season so far, I've become good friends with all my crew mates and feel that we all have a sense of trust and respect with one another. Seeing our changes and growth from day one gives me so much happiness, and I can't wait to see how much more we can grow before our last day together.
Describe what JFR means to you in 5 words or less
Growth, Independence, Experiences, Fun, Friends
What do you like most about your crew mates?
What I like most about my crew mates is how much fun we can have together. We're already a very close group of friends who can find fun in doing almost anything. While we have lots of fun, we also can get tasks done by working as a team and giving everyday our best. We've gone through plenty of experiences together and I believe it has brought us all much closer than we ever would've thought. If there's ever a tough time or a difficult situation going on within the crew, we're always quick to come together, communicate openly with each other, and resolve the problem. Our openness within the crew is something I have seen develop through the season. There's a great amount of honesty, trust, communication, and openness that creates a stronger bond with everyone that makes my crew feel more like a family rather than coworkers.