Home
Junior Forest Rangers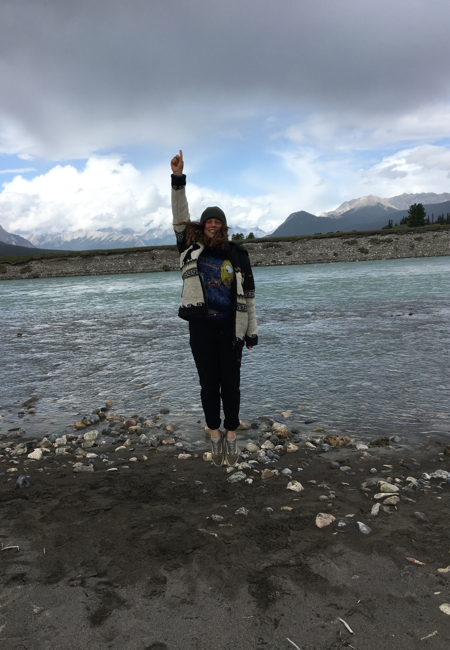 Hope is a first year Crew Member on the Rocky Mountain House JFR crew.
Tell us a bit about yourself. 
My name is Hope Rebonné. My last name is French so it's pronounced Re-Bon-Eh, not Re-Bon. I'm from Edmonton, and I live right by the river in Riverdale. I like to bike a lot, boulder, snowboard in the winter, and have recently started to bead which I love as well. I'm 17 years old and have graduated high school. I love music so much, I listen to it all the time. My favourite type of music is folk. 
How has your experience been so far with JFR?
My experience has been super great. I have made great friends with everyone on my crew; my job challenges me, and I love going to work every day—especially when it's not raining. After work, it's great to hangout with the crew, watch Twilight, go exploring and drink lots of water. 
What is your dream job?
I don't know exactly what my dream job is just yet, but for at least 5 years I've been looking  into forestry. I want to be outside as much as possible, learning new things and being able to teach what I've learned to others. I definitely don't need to be rich, but I want to be doing something I love every day and that I'm passionate about. 
What do you like most about your crew mates?
Madison- Madison was the first one I met, and at first she was super quiet. I tried to talk to her a lot without wanting to annoy her, but soon I found out that she's so funny, smart, and she cares about the environment which is important. 
Julianne- She knew quite a bit about JFR and Forestry because her siblings had done it before. She gave us a lot of insight about what this program really is. She is also very sassy and funny which is great. 
Courtney- She is super nice and has such a great laugh. She brings a lot of positivity to our crew everyday and is good with everyone we meet. She also thinks I'm funny which is good. 
Ella- Ella is very cool and she's my roommate, so it's good that we happen to be very similar. Like me, she likes essential oils and going to bed early to get good sleep. And she helps keep me on track when I forget things. 
Maryjo- MJ is really really awesome, funny and savage towards me. She roasts me a lot which Is funny. She offered to help me with my cree and teaches me a lot of new things. I love being her neighbour because I get to see her when I brush my teeth at night, and I go to bed with a smile. 
Jordan- Jordan is a cow girl who teaches me a lot about cow girl stuff. She is very smart and is great at keeping everyone calm and cool. She is headstrong which is what we all need sometimes, and has great hair. 
Maggie- The Megladon is extremely strange; I like it a lot. We are very strange together. She makes meme references all the time and talks to me in weird languages. She has a great laugh which makes me laugh too. 
Jessica- Jess is very smart and knows a lot about books. Anyone can talk to her about anything, even if she doesn't particularly like that subject. She's also kind of a cow/farm girl and loves telling funny stories about her farm girl life. 
Mary- Mary is really FUN; her laugh is contagious. She is so positive and puts everyone in a good mood. She is always concerned about the things we do but that's okay—she is so positive and patient with us, like a willow tree. 
Britani- She knows a lot about outdoor skills and teaches us what she knows. She's really good at challenging and inspiring us to try new things, like pooping in the woods. She is very sweet, helpful and has very good music taste which she plays in the Silver Fox.
What is one thing you have learnt/completed through JFR that you never thought you would?
I would say working so well with my crew. We are all able to challenge each other and work together to get things done. I'm able to take constructive criticism from my crew mates which is something that I haven't been great at in the past.