Home
Junior Forest Rangers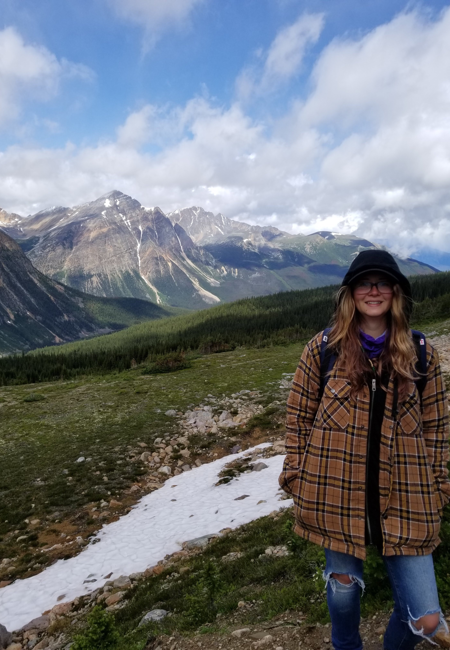 Jordan, is a Second-year JFR Crew Member spending her summer in Hinton!
Why did you apply to the JFR program?
I reapplied for the JFR program in hopes of learning more about forestry. My time as a first year gave me the insight I needed to truly consider a career in forestry; however, now that I am graduated, I wished to come back and gather more knowledge and experience before committing myself to a specific job. I also reapplied because of the amazing memories I made as a first year. I made friendships that will last a life time, and grew as an individual. It was an adventure that I wished to experience again, and thankfully I was given the opportunity to do so.
What are you most excited about for the upcoming summer?
At the beginning of the summer, I was most exited for the endless adventure, new friends, and amazing memories. I couldn't wait to get back to doing work projects, for the hiking, and for the times spent with the crew. I am happy to say that I enjoyed this summer. Everything that I was excited to do, we did. We went on hikes, on long out-trips, did work projects, and learned about forestry. I made a lot of new friends, and accomplished a lot throughout my time with the Hinton Crew.
What is your dream job? 
I hope to one day work on a Helitack crew. However, I want to go to post-secondary school to become a Conservation Biologist.
What do you like most about your crewmates?
I like the fact that my crewmates are incredibly accepting, and hard working. They are always up for a challenge, and push each other to be better workers. I've made a lot of great memories with those in the Hinton Crew, and I will surly miss them once JFR is over. Each member has their own unique personality and because of this, have all brought something to the team that has made us a stronger crew.
What is one thing that you have learnt or completed through JFR that you never thought you would?
I have gotten a more in-depth perspective on how the forestry industry works; in particular how Wildland firefighters work on a daily basis. Although we learned quite a bit of this last summer, we have been given the chance to operate more closely with Helitack crews (do mock fires, and learn alongside first-year firefighters). We are also given the chance to complete our ROC-A certification (Restricted Radio Operations certificate). Considering the fact that I am a Second-year JFR member, a lot of the learning and new experiences happened in my year previous; nevertheless, I continue to learn how to socially interact in a professional environment. The skills that I have learned last summer, and in this one, will help me with future careers.