Home
Junior Forest Rangers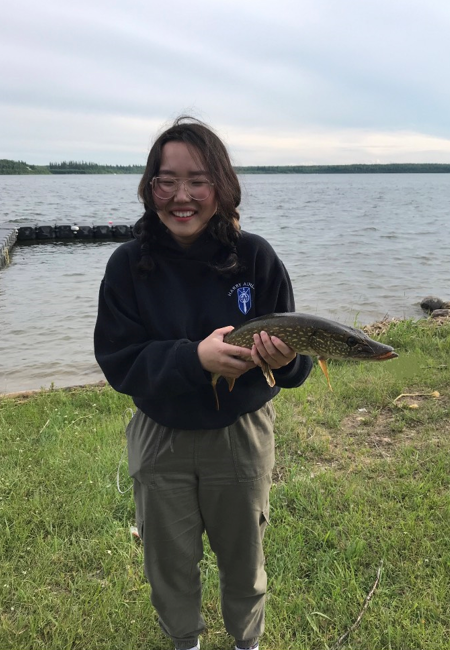 Meet, Winnie! She's a First Year JFR Crew Member on the Lac La Biche crew this summer.
Tell us a bit about yourself
Hey everyone, my name's Winnie and I'm from Edmonton, AB! I just graduated high school this year and will be going to the UofA in the fall. I heard lots of good things about the JFR program so I thought it would be an exciting experience for me before I head off to uni! I love debate, swimming, and I recently discovered how cool fishing is! I'm super excited for the summer!
How has your experience been so far with JFR?
Overall, I've been loving it here so far! I've learnt so much in just this past week about forestry and the environment, which is super cool! I've never been so deep in nature before so this whole trip is a huge learning experience for me! I'm also very lucky to be at Beaver Lake. It has a magnificent view, so I always wake up feeling great!
What makes you happy?
I love learning new things, the amount of cool things I've already learnt makes me incredible happy! I love to keep learning more about forestry everyday! For example, I learnt now how to fish recently with the help of my awesome crew, and I have never fished before and that experience made me very happy! 
Describe what JFR means to you in 5 words or less.
An incredible learning opportunity. 
Describe your JFR leaders with a pop culture/musical reference.
Thomas looks like Steve Rogers (Captain America) so I guess Paige could be Black Widow (because they're a duo!). She honestly reminds me of something really chill, like maybe one of those cool frat boys? I honestly love them!