Darryl has worked behind the counter at a plumbing supply store for the last 20 years. At first, he was learning new things and the steady paycheque was terrific, especially because he was finally making a dent in his car loan. But lately he's noticed that the hands on the clock just won't move and the hours seem to crawl by. He's so bored at work. Something needs to change.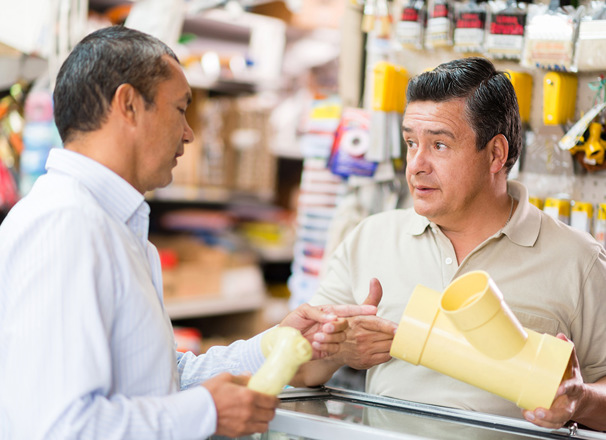 You make choices every day. The little decisions are easy. But more important decisions about your job, family, education, or life take more thought.
You may feel as if you're stuck in the same old routine. Or maybe it seems like things just keep happening to you that you have no control over.
In these situations, deciding whether to make a big change can be stressful. But tackling important decisions head-on lets you take more control of your life.
Good life decisions are more than just snap judgments. They involve making a plan and following through. Making good life decisions follows the same thoughtful, 4-step process you would use to plan your career. These proven steps will help you choose—and act on—an option that suits you.
1. Know yourself
Understanding who you are and how you see your future will help you define your goals and what you need to do reach that future. Some important first steps in getting ready for a big decision are to:
Once you have a good sense of where you are and where you want to be, you will be in a better position to start exploring possibilities.
2. Explore your options
When you have to make a decision, it means you have options. You just need to figure out what they are.
For example, if you're feeling burned out at work, you could:
Quit and go back to school
Take early retirement
Find another job in the same industry
Use your transferable or core skills to find a job in another industry
Consider Magda's story. Magda finds new meaning in her work by recognizing how much she values helping others. While the paperwork is increasing, she realizes that she can help not only her patients, but the student nurses she mentors.
Magda shoves the last chart into its slot and checks the computer screen and then her watch. Some of the other nurses want to toast her birthday at a nearby restaurant tonight, but Magda can barely find the energy to go.
In fact, Magda can barely find the energy for anything to do with work. She used to enter the hospital each day eager to see how her patients were doing. But now she drags herself in, knowing that she faces piles of charts, orders, patient classification sheets, and early discharge planning forms. The paperwork is drowning out her passion for looking after other people. That's why she entered nursing. But these forms are making her want to quit.
"Magda?" A student nurse taps her on the shoulder. "I'm worried about Mrs. Kent in 4B."
Magda looks at Kim, full of the same kind of passion she once had for her patients. Kim needs guidance from someone with more experience. Magda pauses for a moment. "Me too. Let's look at her chart together. And when we're done, will you join some of us nurses down at the restaurant tonight?"
Take the time to think about the options you have at this stage in your life. Ask people whose opinions you respect about what options they might consider.
If you're planning your work life, think about workplace trends and learn about different ways of working. Once you know what your choices are, you can make a decision.
3. Make Your Decision
Deciding can be scary. You're taking control of a situation, and it may go wrong. But a little anxiety is normal when you have hard choices. It can even spur you to act. If you're feeling too anxious to make a decision, talk to a counsellor or trusted advisor.
Researchers say a good choice:
Occurs after you've looked at the most promising options and the possible results of acting on those options
Fits your values and self-image
Is one that you can and will act on
Allows your head and heart to agree on how to act
There are 2 basic approaches to making a good decision:
Follow your head means reviewing your values, interest, strengths, assets, and challenges.
Following your heart encourages you to use the wisdom of your inner voice.
4. Take Action
Once you know what you want to do, you will need to figure out how to do it. Use these tips to help you:
Identify Key Tasks.
You will need to identify key tasks to help you move towards your selected occupation. These tasks may involve further learning, work or experience.
Identify Supporting Tasks.
Some smaller tasks may also need to be developed to help you prioritize what needs to be done first, prepare to achieve your key tasks and to set yourself up for success.
Create a Timeline.
Get started on your timeline now. When you say you will finish tasks according to a timeline, the tasks become real and you can get them done.
Stay Motivated.
All of this planning can be a bit stressful. When you're under stress, you may resist making changes or delay taking action. Fortunately, there are lots of things you can do to help you stay motivated.
Knowing what you want to do is your long-term goal. To reach this long-term goal, you'll need to set smaller SMART goals that are specific, measurable, achievable, realistic, and time-limited. Defining your goals in this way will make them more achievable and will help you manage challenges that may arise along the way.
Making decisions is an ongoing process
Even the best decisions can come with feelings of regret. They may also have problems or challenges attached to them. But remember that few decisions are set in stone. If things don't work out, you can often try another direction.
Also keep in mind that you can only make the best choice possible with the information you have at the time. The decision you're working on now is not the only big decision of your life. You can use what you learned from making this decision when you make your next.