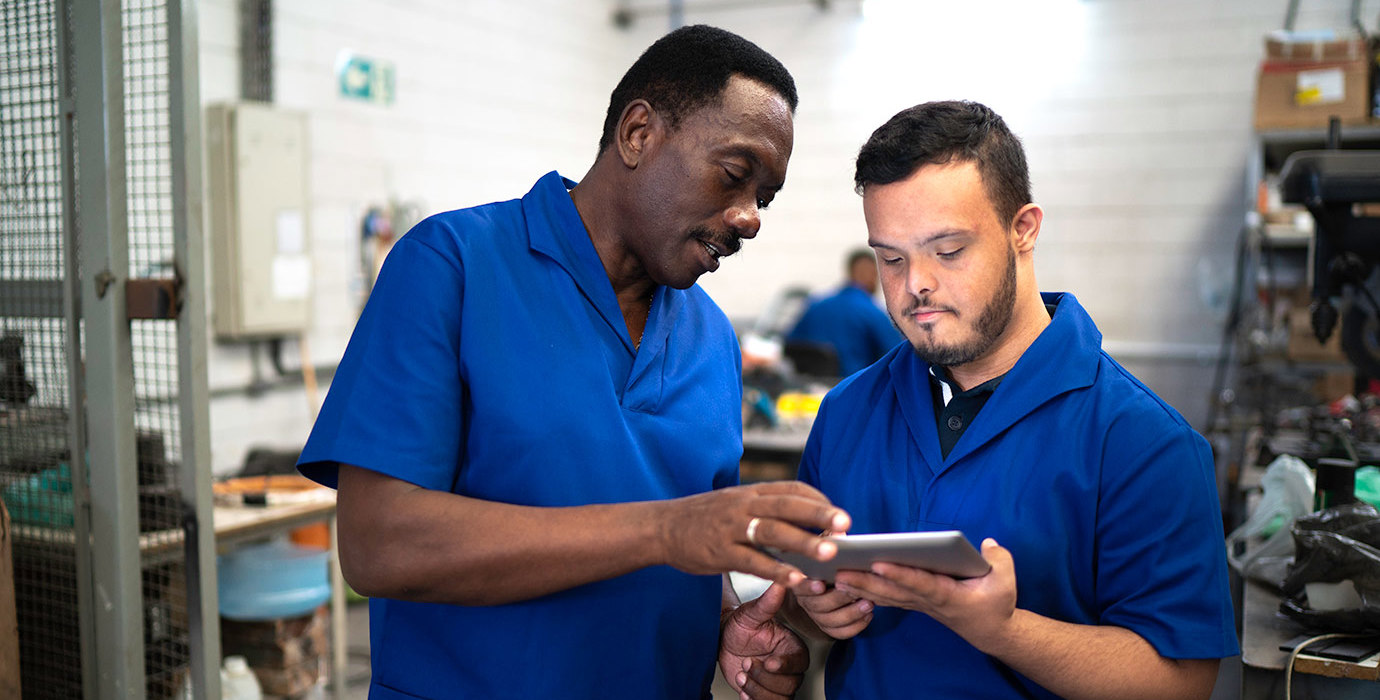 You're ready to work, and you have the talents and skills that will make you a good employee. Inclusive employers know people with developmental disabilities have much to contribute and are an asset to the workplace.
Inclusive employment means you work for a company that hires people from all backgrounds and of all abilities. It could be a small business or an international firm with employees around the world.
Your employer hires you for a job that someone without a disability could also do. You work with other employees who may or may not have a disability. And your employer will help you get the supports you need to be successful.
They'll expect you to work to the same standards as other employees. You'll also:
Earn a fair income of at least minimum wage and have work benefits
Have opportunities to learn and get ahead in your career
Become more independent as you learn new personal and social skills
Feel like you belong as you meet new people and make friends
CBC News: People With Autism Recruited for Skilled Jobs [13:20]
Through interviews and analysis, this news item explores the growing number of Canadian employees with autism and the unique benefits they bring to their employers.
What makes a workplace inclusive?
Inclusive employers know that each employee brings different strengths, and that together those differences make the company more productive and a better place to work. Inclusive employers:
Offer equitable opportunities to be successful. They know that what one employee needs, such as more time to learn a new task, can be very different from what another needs.
Take time to understand what you can and want to do, and which tasks you find more difficult.
Treat all employees with respect and trust. They respect your ideas and what you think, and you have a say in decisions at work.
Are willing to support you, for as long as you need, to find new ways to do things.
Break down stigma around disabilities, and help other employees learn more about all that you can do when you live with a developmental disability.
Know it's important for employees to feel a sense of belonging at work. You'll feel connected to the people you work with and the company you work for.
Continue to improve their inclusion policy and practice.
As your supervisor learns about your abilities, you'll be given work opportunities that match your skills and passion, and the chance to make more decisions and do more tasks on your own. In an inclusive workplace, your employer will work with you to make sure you have the right technology and natural supports on the job so you can do your best. Your employer will also be open to working with others, such as your family or a service agency that helps you, to find solutions. 
Work that's right for you
In thinking about the kind of job you would like to do, consider what might be a good match for your abilities and skills. For example:
If you have grown up with a disability, you probably understand what it feels like when life isn't always easy. A job where those experiences can help you support and counsel others might be right for you.
Do you enjoy interacting with people? If so, service roles may be a good fit.
Consider whether you might do well in a job with a lot of routine and structure. These often allow you to focus on a single task at a time.
Your disability may have given you an intense attention to detail or a great memory. These skills work well in areas such as research and software testing.
Your job search
Inclusive Employment: Making a Difference by Working Together [6:31]
This is the story of 3 valued employees with developmental disabilities in Alberta. Davey, Jill, and Brian have found meaningful, well-paying jobs with employers who are learning the many benefits of providing an inclusive workplace.
There are many tools to help you find work with an inclusive employer:
Supports you need to do well
Employers have a duty to accommodate, which means they have to make every reasonable effort to help you succeed at work. This could mean:
Flexible tasks, workload, or work hours
Extra time for training
A support worker, family member, or peer mentor who can help you when you first start, as you learn on the job, and as you get ahead in your career
Adaptive technologies such as an onscreen keyboard, or voice recognition software
Disability Related Employment Supports (DRES) from the Government of Alberta may be available to assist qualified clients with documented and permanent or long-term disabilities. DRES funding pays for supports or services to reduce, alleviate, or remove barriers for education, training, work search, or employment. Examples include assistive technologies, installations or worksite modifications, sign language interpreters, and specific disability-related software.
Chrysalis works with you to match your skills and abilities with jobs at inclusive places of work. It offers a variety of services, like 1-on-1 support from a job coach, help with job interviews, and finding a mentor who will support you in your career.
EmployAbilities can support you with a number of services and programs such as career planning, job search, skills training, and learning how to manage your work life.
Meaningful work that benefits everyone
Remembering Joey Moss [4:05]
Joey Moss was born with Down syndrome. He passed away in 2020, after almost 40 years as a prominent employee of Edmonton's best-known professional sports teams. He became a role model for many people who live with developmental disabilities. Because of him, millions of Canadians have a better understanding of how everyone benefits from inclusive employment.
If you're like many adults with developmental disabilities, you want to work and are capable of doing very well on the job. Meanwhile, employers need committed employees. Inclusive hiring gives employers access to a much larger workforce and provides many other advantages:
A work culture that's more diverse and rewarding for all employees.
A wider range of creative approaches to workplace challenges.
A higher chance of meeting company targets, figuring out how to do things differently, and knowing how to respond well to change. Research also shows that inclusive work teams often do better than other teams.
Improved public image, as people want businesses to be good corporate citizens.
The opportunity to give back to the community.
Inclusive employers accept and value you as a person with a developmental disability, because they know you're capable of doing the job well and you'll be good for the company. You'll have a job you like and that helps you feel good about yourself.