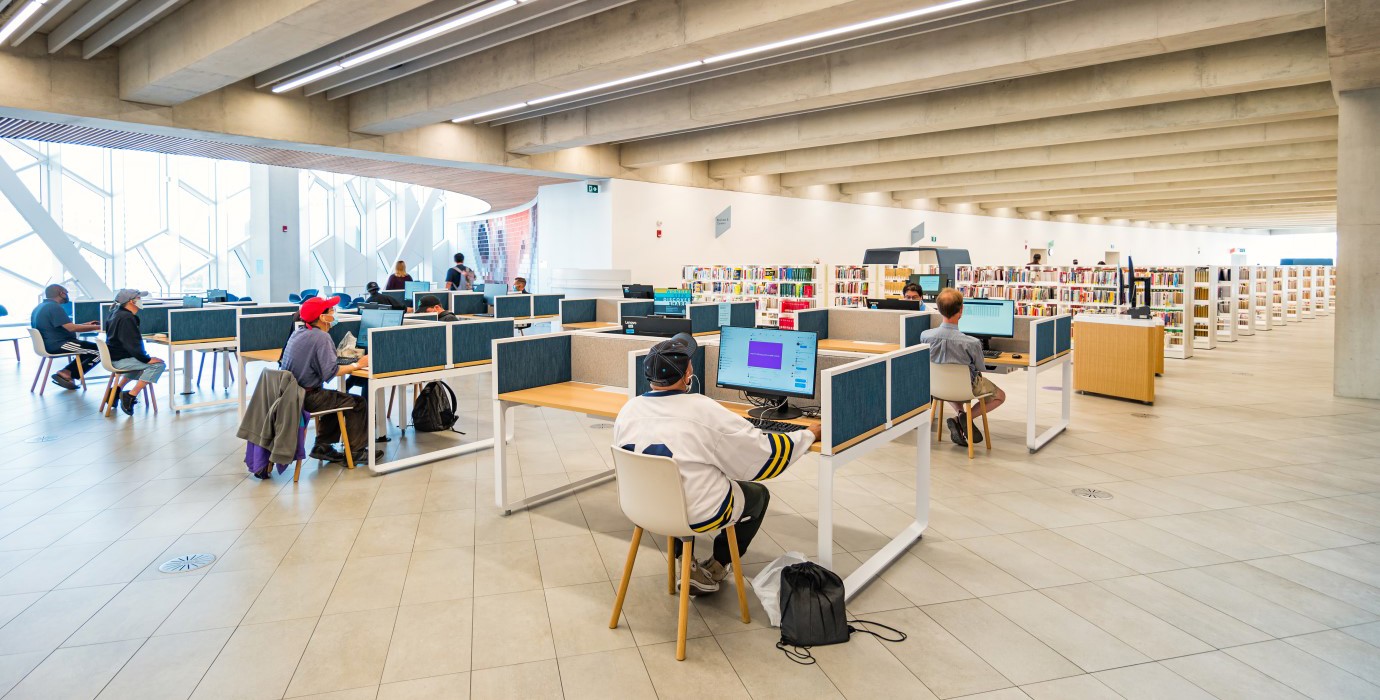 Training can be found in many places.
Not all of these places will work for you. But some of these places can help you learn. They can help you reach your goal.
Here are some places you can find training:
Do you know where you want to get training? If you don't know, you need to decide.

Now let's explore how you will do this step of your training plan.
Get training at your library
Almost every large town or city has a public library. The librarian will help you find information. You can use the computer to read online resources there. You can read newspapers and magazines there. You can find books and DVDs there. 
The librarian will help you get a library card. This will let you take books and DVDs home for free. A library card can help you take online courses for free.
Get training in your community
Your community is where you live. The homes, schools, stores, and parks around you are part of your community.
Your community is also the people you spend time with. It is your family and friends and neighbours. Sometimes these people can be mentors. 
Many communities have community leagues or centres where people get together. You can take a class or course there. Your church or mosque or temple may have classes. Some stores have classes. For example, a sewing machine store may teach sewing classes.
Get training on the job
Training on the job means training at your workplace. Sometimes your workplace gives training classes. For example, first aid training or English classes.
Many large workplaces have a human resources office. It hires, trains, and looks after the work needs of workers. Sometimes it is called the personnel department. You can talk to the people there about your training goals. They may help you find the training classes you need.
But there's another way to train on the job.
Maybe you want a different job at your workplace. But you don't have the skills.
Look at the tasks of the job you want. You can ask to learn these tasks. You can learn new skills on the job.
Get training through your union
A union is a workers' group. A union defends the rights of workers. Not all workers are part of a union.
Your union and your employer often work together to help workers get more training. If your workplace has a union, ask about training.
Sometimes your union gives training at your workplace. Sometimes your union can help you pay for training.
Get training through a business group
Many companies belong to a business group. Business groups are also called industry groups. Many business or industry groups want to make sure their workers are trained.
Some of these groups give short courses. Or they send out useful news in emails. Or they have meetings where experts talk about the industry.
You can ask your employer or your human resources office about industry groups. Or ask your career advisor or tutor.
Get training on the internet
The internet can connect you to training by schools far away from you. This is called distance learning. It's easy to find this kind of training.
OCCinfo lists hundreds of distance learning programs and training in Alberta. Or you can type the name of your job and the word "training" or "distance learning" into an online search engine. For example, Google or Bing. If you want to narrow your search, add the word "Alberta" or the name of your town or city.
You will find websites with information. You may also find videos, instructions, and more. Some schools even have classes or courses on the internet. When you train on the internet, you can study at your own pace. Sometimes you have to pay for this training. But some of the information is free.
Remember. Not all of the information on the internet is true or honest. Dishonest websites won't help you train. They just want your money or your personal details.
Make sure the website you are looking at has good contact information. Search the internet for online reviews. Reviews will tell you what other people think of the website. If you're not sure that a website is honest, ask your career advisor or tutor for help.
Get training at school
Schools train people all the time. They teach skills to children and adults. They can teach you to fix problems or drive or bake a cake. You can learn something new at a school. For example, a language or a hairstyle. Or you can take a high school course again for a better mark. You can even take courses as an adult to get your Grade 12 diploma. This is called academic upgrading.
A school can be a college or a university. Or it can be a business. For example, a driving school.
Many schools have counsellors. You can call or visit them. Counsellors can tell you how their school can help you learn. Your career advisor or tutor can help you find them.
Schools teach short courses and long programs. Many people who need training start with schools. Schools have many classes, courses, or programs. Maybe one is right for you.
Now you know some places where you can get training. Can you choose a place that's good for you? You may even choose 2 places. That's OK.
Moving forward
It's good to learn new things. It helps you in your work. But it also helps you in your life. You feel good about yourself. It's great when you can say, "I can do this." Or "I know about this."
Look for ways to learn something new. For example, you may always look for new recipes in a cookbook. Next time, look for a new recipe on the internet. You can learn a whole new way to learn things!
Need more help?
Do you have more questions about training for work? Here are some people who can help:
Your career advisor
Your counsellor
Your friends and family
Your tutor
You can also contact Alberta Supports. Alberta Supports staff can help you plan your career. They can connect you to employers, show you training options for skills that are in demand, and help you get money for your training.