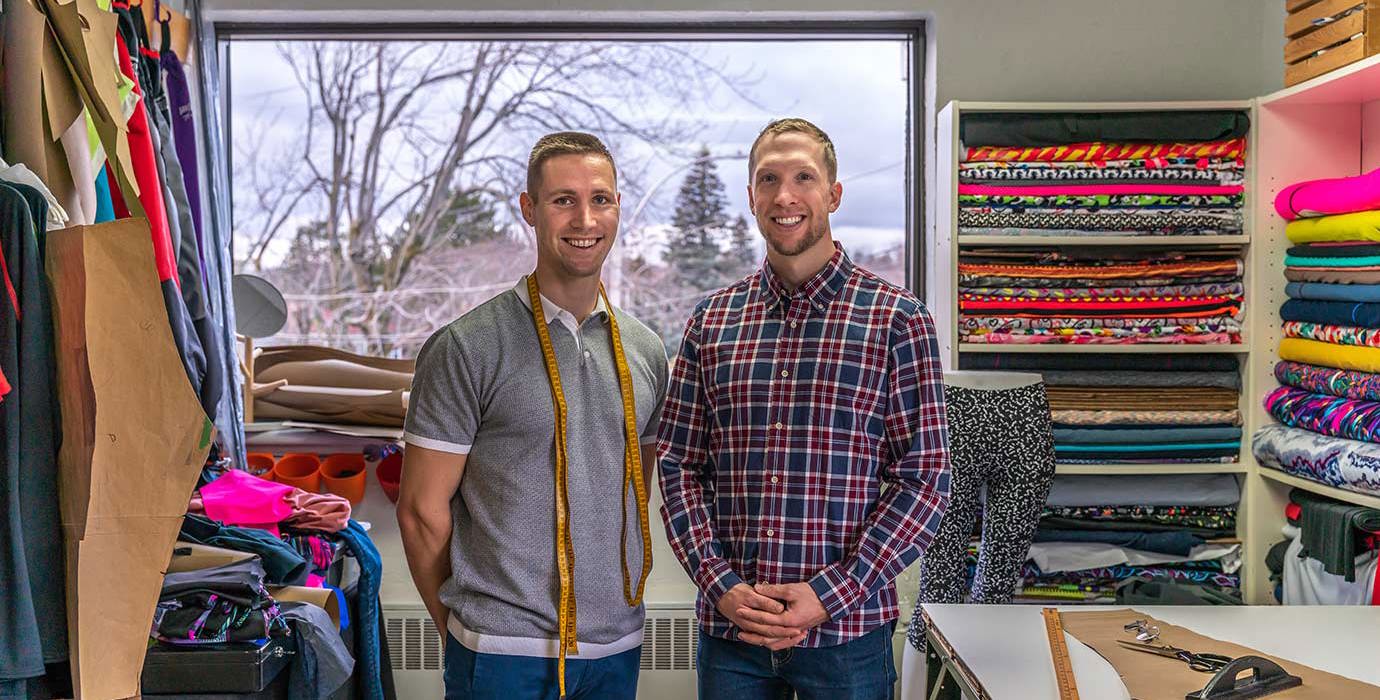 LGBTQ2S+ clients' choice to be out influences many decisions related to their work search. The degree to which they expect unfair treatment in the workplace is a key factor in their decision making.
You can help LGBTQ2S+ clients think through their search strategies. Take the time to anticipate possible impacts. This will help the client make informed decisions and plan accordingly.
Helping clients with work search
Sexual orientation and gender expression can affect potential employment. LGBTQ2S+ clients may need to consider factors that others take for granted when researching employers, reviewing their resumés, and preparing for interviews.
Researching employers
Some members of the LGBTQ2S+ community may want to restrict their work search to employers who are openly supportive. This approach may be more difficult for those living in small or rural centres and unable to relocate. For those in larger centres, however, this option may work.
Some employers actively recruit employees in this group through job fairs and conferences expressly designed for the LGBTQ2S+ community. Some recruit through employee referrals and contacts. They also recruit through internal LGBTQ2S+ resource groups authorized to advise management on LGBTQ2S+ workplace issues.
Resources featuring groups and advice to support LGBTQ2S+ are widely available. Be aware of such resources and help clients with referrals, as appropriate. LGBTQ2S+ clients pursuing this option benefit from the resulting freedom to be themselves. By targeting employers already known to be supportive, clients can focus on other aspects of their work search. They don't have to make ongoing decisions about coming out during each and every step.
Suggest that clients consider using these strategies to research employers first before applying for work:
Check local LGBTQ2S+ targeted business directories to see if the employer is listed.
Visit the company's website. Is there evidence of supportive policies, mission and vision statements, resources, or LGBTQ2S+ employee groups?
Research specific companies. Don't make assumptions about an entire industry.
Explore how the company has presented itself in the media. Has it celebrated or supported LGBTQ2S+ events like Pride?
Contact the employer's HR department about specific benefits and support groups for LGBTQ2S+ employees. This can be done anonymously, if preferred.
Contact the employee group for LGBTQ2S+ employees for information about the work climate. As with contacting HR, this can be done anonymously.
Ask people in their network if they know employees of the company or their friends. These people may be able to offer information.
Reviewing resumés
Help LGBTQ2S+ clients create resumés that highlight their strengths and accomplishments. You can also help them consider how to best to capture roles in LGBTQ2S+ organizations.
Encourage clients to use these strategies:
Use resumés that target specific job openings.
Highlight skills and achievements that are relevant to the position.
Weigh the pros and cons of including information that may out the client.
If clients choose not to be out during their work search, consider how best to capture their experiences. Those gained through roles within the LGBTQ2S+ community may need to be adjusted to avoid outing the client. The client might:
Identify the company by a less revealing acronym or legal entity name.
Bundle companies together. For example, refer to skills gained while working for "various community groups."
Simplify job titles. For example, use "diversity advocate" rather than "LGBTQ2S+ advocate."
Refer to a less revealing level of the organization's structure. For example, use "HR Department" rather than "LGBTQ2S+ Diversity Office."
Preparing for interviews
As for all clients, preparation for interviews is critical. Specifically, you might suggest that LGBTQ2S+ clients:
Research the company.
Be prepared to speak to all skills, strengths, and accomplishments. This includes any developed through LGBTQ2S+ roles.
Consider the pros and cons of coming out during the interview process.
Applying for work as a gender minority
Gender minority clients will want to take a thoughtful approach to how they express their gender. They need to consider how their gender is expressed in their current application and elsewhere. Practise how to politely correct any misgendering that may occur during the hiring process.
Clients can choose to share their pronouns at any time in the process. This can be in their initial application or in following calls or emails. They may want to do it when they introduce themselves at the start of an interview. Or they may want to wait until the days leading up their first day of work. Help your clients consider the pros and cons of each approach.
As resumés and cover letters are not legal documents, clients can use either their legal name or their chosen name. They can also use a single name that combines both, such as Robert "Bobbi" Townsend or Bobbi (Robert) Townsend. Other documents—transcripts, criminal record checks, work permits—may not be as flexible.
Recognize that past employment references may know your client by a different name and gender. Clients who disclose before or during the interview can indicate the identities each reference knows them by. Clients who are not out with their new employer may want to discuss their current name and pronouns with their reference. If that's not possible, work with your client to identify other references with whom the client feels safer.
Human resources staff are required to keep your personal information confidential. If your client's name differs across an application, the client may want to reach out to human resources in advance. Clients can indicate that, while certain documents refer to their legal name, they prefer to go by their chosen name. They can ask for their professional documents and application to reflect that.
Work environments
Work environments vary in terms of the level of support extended to LGBTQ2S+ employees.
Discrimination in the workplace
Discrimination remains an important factor for LGBTQ2S+ employees.
Discrimination in the workplace can be formal or informal in nature:
Formal discrimination refers to decisions made about conditions of employment. These can include hiring, hours, same-sex partner benefits, and wages.
Informal discrimination refers to hostility experienced in the workplace. This can include verbal harassment, damage of personal property, and disrespect.
The Alberta Human Rights Commission provides advice on what to do if you experience discrimination in the workplace.
Companies with strong diversity and inclusion practices can have a positive impact. LGBTQ2S+ employees at these companies report being more satisfied and committed. They describe their workplaces as more fair, and have more positive relations with their managers and colleagues.
Workplace policies for LGBTQ2S+ employees
Unintended impacts of policies to support LGBTQ2S+ people—"In some cases where policies formally protect [LGBTQ2S+] individuals, discrimination and prejudice has gone underground and become no less damaging but slightly more subtle."
Many companies now have written policies to protect LGBTQ2S+ persons. Same-sex partner benefits and health coverage for gender transition procedures are positive steps. These and other measures help LGBTQ2S+ employees feel recognized and valued in the workplace.
Some employers use the Employee Resource Group (ERG) strategy. ERGs are groups of employees formed around shared attributes. These can include race, ethnicity, gender, age, disability, sexual orientation, gender identity, or other aspects important to employees. ERGs support the employer's diversity strategy by:
Providing a forum for discussion and support among their members
Acting as an advisory council
Organizing events that promote empathy
Developing programs or supports for members
Hosting social or networking activities for members
Assisting in outreach and recruitment in their communities
Many unions support their members who are LGBTQ2S+. Unifor, for example, has an active and prominent LGBTQ equity committee.
Many businesses recognize that the LGBTQ2S+ community represents a large and loyal market. These businesses promote themselves by advertising on LGBTQ2S+ websites, resources, and business directories.
Disclosure and non-disclosure in the workplace
Whether to be out or not in the workplace is clearly a client decision and is an ongoing process. A recent study showed that more than 50% of LGBTQ2S+ employees feel the need to hide their identity at work. It often depends on the client's stage of identity formation. 
A range of degrees of disclosure are possible:
Actively deceiving others into thinking they are heterosexual or cisgender
Attempting to appear heterosexual or cisgender to avoid scrutiny
Being honest about one's life and activities while avoiding LGBTQ2S+ labels
Being open about one's sexual orientation or gender identity, using relevant LGBTQ2S+ labels
Unfair treatment, whether past, present, or expected, is a key factor when considering disclosure. Clients will likely experience a tension between their personal integrity and fear of a negative reaction. This is natural when making decisions about identity management in the workplace.
You can help clients explore the impacts of their decisions. They are highly personal. Clients will weigh the same factors differently as they explore possible solutions.
You might find the following information helpful as you counsel clients in this area:
Disclosure can lead to higher job satisfaction. Some LGBTQ2S+ clients prefer to be out at work. It relieves the stress of maintaining a heterosexual or cisgender facade. It allows them to discuss social activities and feel comfortable inviting colleagues to their homes.
Disclosure may change relations at work. Some may improve, while some may be less supportive. Clients may face more unfair treatment.
Gender transition in the workplace
Clients planning a gender transition often struggle with whether they can safely do so in their current workplace. The alternative is to change employment. This affects employers' ability to retain talented employees.
If the employer does not have a policy in place, it presents an opening for the client to propose one. A growing number of employer-facing guides are available. Help clients identify one that meets their needs and that the employer will respect:
You might also offer the client information about traditional gender experiences in the workplace. The client's newly expressed gender will cause changes in societal perception that they need to prepare for. See Important Context for Counselling Clients Facing Traditional Gender Issues for a place to start.