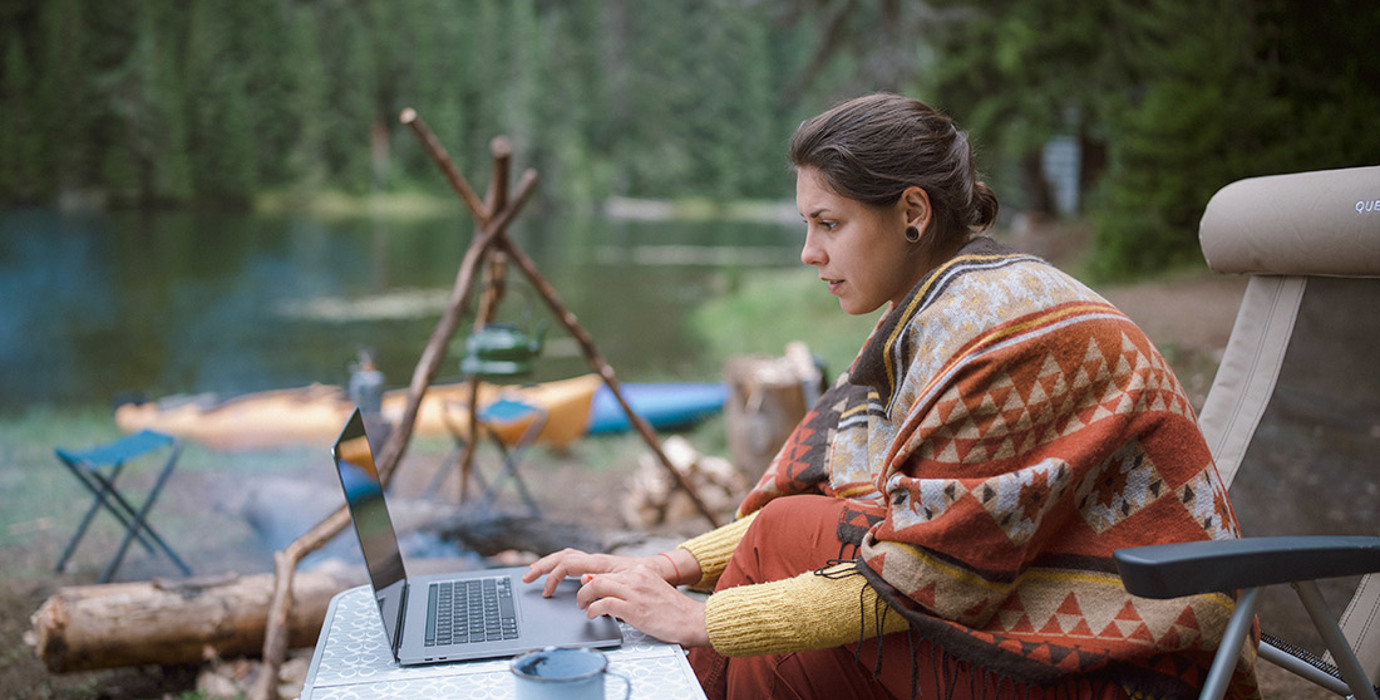 istock.com/ArtistGNDphotography
A decade ago, searching for a work-from-home job was just as likely to land you in a scam as in a promising job lead. But as remote work becomes more common, your job-search skills need to keep pace with the change.
Are your remote-work search skills up to the challenge? Finding remote work that fits your lifestyle can be a breeze with the help of a few new tools and techniques.
Find the right job for you
Before you start your remote-job search think carefully about your skills, the kind of job you want, and the type of lifestyle you prefer:
How much stability are you seeking?
What time of day do you want to work?
Do you want to stay in your community or travel?
Communication is key
Some jobs allow people to be focused at different times. This kind of asynchronous communication includes email and chat tools where you are not communicating with the other person in real time. On the other hand, synchronous communication uses tools like telephone and video conference that require people to be present at the same time.
Will you be comfortable with synchronous communication if that's what your remote job requires? Will you be in the right time zone?
If working remotely for an employer in another province or country sounds like a dream, consider whether that means you'll need to show up for meetings at 4 a.m. Your daily schedule will need to be flexible to mesh with your employer's requirements.
Research your international prospects
Working remotely gives you the opportunity to work with employers from around the world. However, working internationally can be complicated.
Some international jobs will require you to set up as a contractor, not an employee. You may also discover tax implications when you work for a company in one country but live and pay taxes in another. What about health insurance? Will you be able to afford it?
As always, do your research before you commit.
Is the freelance lifestyle right for you?
Many remote jobs involve freelancing. For some workers, these gigs are ideal. They give you a high level of independence. You may also have a choice about which clients to work with.
For other workers, freelancing can feel unreliable. You don't always know where your next gig is coming from and you don't have perks such as vacation and company benefits.
Weigh the pros and cons before you commit to this lifestyle.
Search tips for finding remote work
Any job search requires some planning. These 5 tips will help put you in touch with the remote work you're looking for:
1. Use sites dedicated to remote work
These job sites will likely give you the best results. They're teeming with opportunities, and many are vetted to ensure the quality and the legitimacy of the position:
2. Use mainstream job sites
Mainstream job sites can be a great source of remote job leads. Look for filters that say "remote", "remote work", "work from home", "telecommute", "telework", "work from anywhere", or "distance work." Or add those terms to your keyword search.
If you don't know where to begin, try the work from home jobs here on alis or explore these job banks.
3. Follow remote-job groups on social media
Many Facebook groups, Twitter accounts and other social media platforms share remote jobs you can apply for. Facebook groups include Remote Jobs, Digital Nomads, and many others. Twitter handles include @Jobspresso and @WeWorkRemotely.
Try a few creative searches. You might be pleasantly surprised.
4. Look for distributed companies
Many companies—even established ones—don't have a main office. As you search online, include the terms "completely distributed" or "100% distributed" to find lists of companies that operate on a fully remote basis.
Bookmark company careers pages and check in regularly.
5. Check your own community
Some employers feel more comfortable hiring remote workers who are physically accessible for occasional meetings or troubleshooting—especially with freelance or contract positions. This could give you an edge in your own community.
As you search, filter local listings with keywords such as "remote," "flexible location," or "work from home."
Get started
Established job banks can be a great source of remote work, and new sites devoted to remote work are springing up regularly. Before you commit to working remotely, research the implications and weigh your options with care. Make sure this move is right for you. If it is, now's an excellent time to find the remote job you've been looking for.