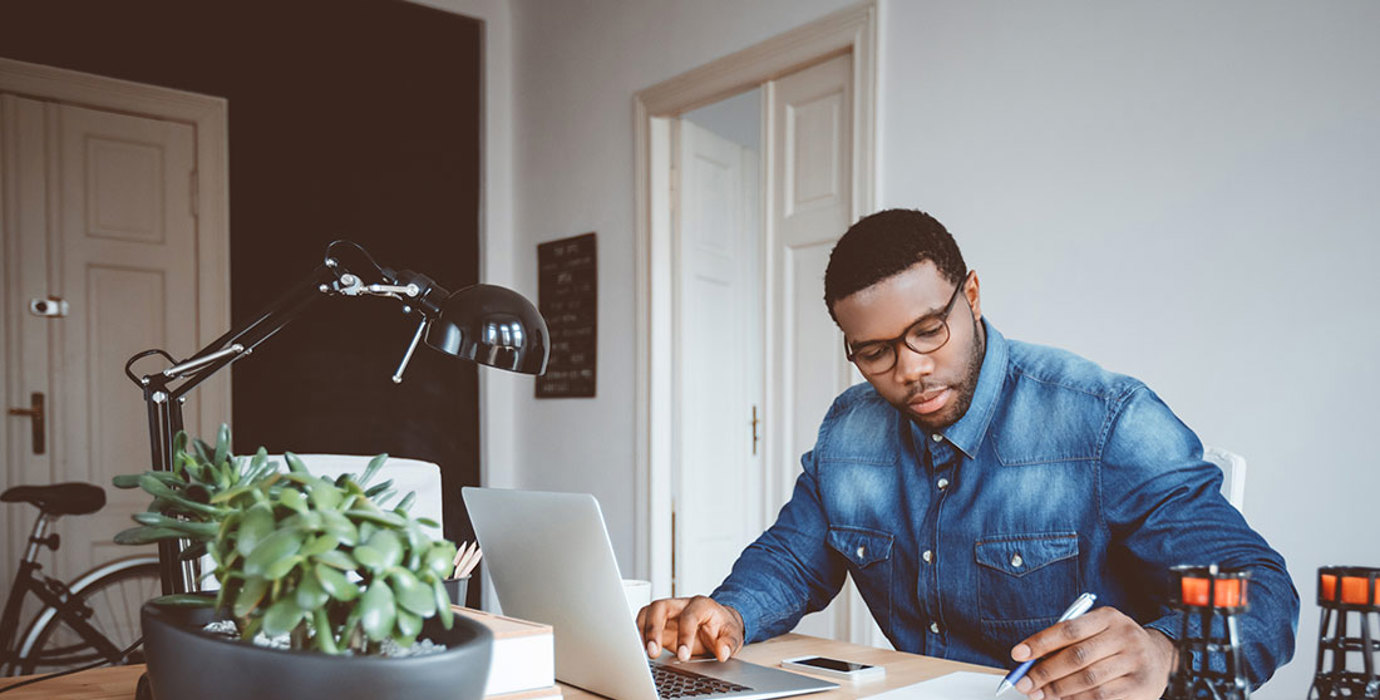 The ability to work from home was an emerging trend before the COVID-19 pandemic. For many businesses, that shift is here to stay. In one survey, 74% of small and medium-sized enterprises said they would continue to offer their employees the choice to work offsite. But, is it the right choice for you?
Decades ago, companies with offices across the country used phone and fax lines to communicate. Now, digital technology makes it easier for many employees to work from anywhere.
What does remote work look like?
Businesses structure remote work in different ways, depending on the roles of their staff and their comfort levels with offsite work. Some companies have no central office and every employee, including its executives, works offsite. This is known as all-remote work. Other companies combine working remotely with working at a central office. This is known as hybrid-remote work.
A hybrid structure's combination of on- and offsite work is helpful when some work roles must be performed onsite, or employees need a flexible arrangement. Hybrid structures may be:
Office-centred
Employees are expected to be in the office for a given number of days per week. Meetings often take place in person. You can work a day or two from home, but leadership spends most of their days onsite and prefers staff to be onsite as well.
Remote-friendly
Everyone, including leadership, works offsite at least some of the time. You may be able to adjust your working hours to meet your needs. Companies offer digital tools that make it easy for staff to work together from offsite workspaces. Office space exists for those who want to come in to work, but you don't have to be there for a set number of days per week. You may be working from a different desk each time you come in.
Communication is key
To keep your colleagues informed in a hybrid-remote setting, it can help to:
Document decisions that arise from informal, onsite meetings.
Hold all meetings online, with office staff connecting on individual devices.
Hybrid and all-remote work require excellent communication between the people giving and receiving information. To be successful, you'll need to be more intentional about how you communicate with your colleagues.
Some types of communication require the people giving and receiving information to be focused at the same time, also known as synchronous communication. Examples include an in-person meeting, video conference, phone call, or coffee-break conversation. It's a faster, more dynamic form of communication, but it can be disruptive for the person on the receiving end. This style of communication is less common in remote-friendly workplaces.
Other types of communication allow people to be focused at different times, also known as asynchronous communication. Examples include emails, chat messages, and video recordings. This is ideal if the person on the receiving end needs some uninterrupted time to focus on other tasks, or if they work in another time zone. It helps everyone use their time efficiently, and also creates a record of ideas and decisions. This type of communication is more common in remote-friendly workplaces but can lack a sense of immediacy. If something is truly urgent, you may need to follow up with a phone call or meeting.
What are the benefits and drawbacks of remote work?
Not everyone is sold on working offsite. During the pandemic, many missed the face-to-face contact with their colleagues, and new employees reported feeling that they were losing out on career development. Still, Statistics Canada found that 80% of people who worked remotely during the pandemic want full-remote or hybrid-remote work once the pandemic is over. Here are some of the advantages, as well as a few drawbacks, to both employees and their employers.
What's in it for employees?
Benefits can include:
Avoiding long commutes. Research says Canadians could save an average of 9 days a year in commuting time by working from home just twice a week. Fewer commutes also means saving money on transit or parking, less wear and tear on your vehicle, and fewer greenhouse gas emissions.
Working outside usual business hours. You may be able to work more flexible hours. You can be there for your kids when they get off school and finish that report after they are in bed.
Choosing where to work. The amount of flexibility offered by your employer can vary. You may be able work from home, at your local coffee shop, or in a co-working space. Maybe you can stay with your parents or follow your partner who's being transferred to another city. Perhaps you can even put down roots in rural Alberta while working a big-city job or for an employer based in another country, or time zone.
Finding a better work-life balance. You can take your pet for a walk over the lunch break, hold your infant while attending a webinar, and even throw a load of laundry into the washer before the end of day.
Drawbacks can include:
A lack of informal interaction with colleagues. It can be harder to socialize with your colleagues, build your network, or build friendships with new employees.
Increased screen fatigue. Working remotely means spending more time on emails and video calls.
Difficulties managing conflict. Communication gaps can cause disagreements. Learn how to manage them.
Difficulties in separating work from life. Focus can be a challenge. Family demands or a lack of a proper workspace can make it harder to be productive.
Salary adjustments. If you've moved to a region where costs are cheaper, your salary may be adjusted to reflect the wages and cost of living in that area.
What's in it for employers?
You may have to persuade your employer to allow you to work remotely. Knowing what's in it for the employer will help you make your case.
Benefits can include:
Reduced costs for workspaces.
Reduced absenteeism and turnover, especially among self-directed workers.
Access to a larger talent pool, especially in a tight labour market.
Expanded business hours, if some workers live in other time zones or choose to work non-traditional hours.
Being seen as an employer who considers the environment—remote work reduces a company's energy use and creates fewer greenhouse gas emissions.
Being seen as an employer of choice.
Make the transition to remote work
If you're hoping to transition your current role to remote work, your manager may need to be persuaded. You need to demonstrate that you can work without direct supervision, and that your work outcomes will be the same as they are when you're in the office.
These strategies can help encourage your supervisor to think more favourably about remote work:
Develop your business case. Identify the type of remote work you're proposing and what you'll need to do it. Think about possible setbacks and how you'll deal with them. Outline your past achievements and outcomes as examples of what you will continue to do. Point to the benefits for your employer.
Present your business case. Keep things professional. Show how your plan will benefit and add value to the company.
Be tactical. Propose working remotely for only one day a week at first. Suggest tracking your performance and outcomes so your manager can compare them to your previous work. Good outcomes will boost your case for more remote work.
Be realistic. Some jobs just can't be done remotely. If you're determined to work offsite, you may need to consider a different career.
How to find a remote job
These days, you don't have to be a computer wizard to find offsite work. From entry-level jobs involving customer service and organizational skills, to skilled careers as an accountant or graphic designer, many occupations have shifted online. Sales and project managers can do their jobs with a spreadsheet and a smart phone, while translators and content marketers may only need a laptop and good wifi.
To find companies that offer mobile work options, check out your favourite job banks. Some sites will let you filter your search by using "remote" or "remote jobs in Alberta." Other terms to search for include "mobile", "work from home", "offsite", "telecommute", "flexible schedule", and "flexible location."
Once you've landed your remote job, make sure you set up a productive workspace and that you get off on the right foot in your new offsite job.
Consider being self-employed
If you can't find the kind of remote work you want, think about how you can turn your skills and line of work into self-employment. You won't have the safety net of a large company, but you'll be your own boss, able to work anywhere. Explore this list of part-time businesses you can start from home to get ideas flowing.