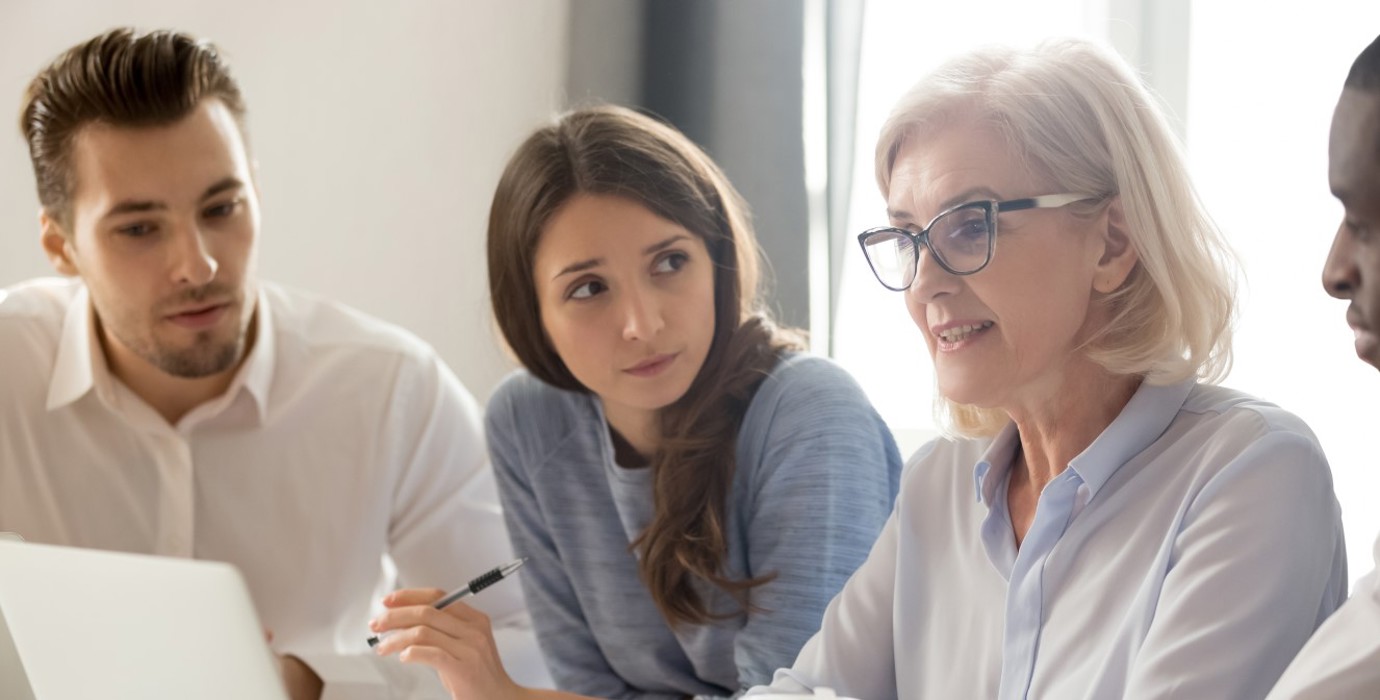 If you are a mature worker looking for a job, common beliefs about aging can work for you or against you.
Some stereotypes about older workers are positive. For example, many human resource professionals believe mature workers are reliable, committed, and hard-working. However, negative age bias is also a reality. Some employers may believe that older workers are less flexible, less productive, or less willing to learn new skills than younger workers.
Age-based stereotypes
A 2021 report published by Federal/Provincial/Territorial (FPT) Ministers Responsible for Seniors explains how stereotypes about mature workers can be categorized into 3 levels: individual, organizational, and societal. Most negative stereotypes do not reflect actual older Canadians in today's labour force. We all have a role to play in challenging negative perceptions and attitudes not only of older workers, but of older adults. Knowing that these stereotypes exist, you can aim to make positive beliefs work in your favour, while protecting yourself against ageism.
Take advantage of positive beliefs about aging
Positive beliefs about older workers may give you an advantage when applying for some jobs.
During your work search, show employers that you have the positive traits often associated with older workers. Use your resumé, cover letter, and interview to draw their attention to the advantages of hiring someone mature and experienced.
For example, you might emphasize that you:
Are reliable and have a strong work ethic
Manage your time well
Have not changed employers often
Can work co-operatively and effectively with a variety of people
Have many contacts in your own and other communities
See problems in a broad context and use common sense to solve them
Maintain a balanced, healthy lifestyle
Feel confident and have a realistic understanding of your abilities
Are willing to do seasonal or evening and weekend work
Many employers value such qualities, knowledge, and transferable skills. Highlighting them may give you a competitive edge.
Deal with negative views about aging
On the other hand, negative views about aging can present a barrier to getting hired. For example, some people may believe that older workers are:
Less productive
Unable or unwilling to learn new skills, approaches, or technologies
Unable to relate to younger customers or co-workers
Only willing to accept high salaries
Counting the days to retirement
In reality, differences between workers who are in the same age group are usually greater than differences between age groups. In other words, if you were a productive worker when you were younger, you probably still are.
Likewise, curiosity and the desire to learn new things do not decrease with age. You may prefer to learn things at your own pace and in your own way, but you are still just as able to learn as you ever were.
To deal with the possibility of age discrimination in your work search, keep a few strategies in mind.
Do not reveal your age or make it easy to screen you out
Most employers use resumés and cover letters, or application forms, to screen job applications. When they receive lots of applications for a position, they may reduce the number they have to consider by looking for reasons to screen out applicants.
Avoid having your application screened out early:
Make it clear that you have the skills required for the job
Ensure that your application looks business-like (for example, your resumé is well formatted and error-free)
Only share information related to your ability to fulfil job requirements, not personal data that might provide hints about your age
Some information can go either way. For example, if you recently earned a credential such as a licence, training certificate, or post-secondary diploma, you may want to include the date to show that your knowledge and skills are current. But if you earned a credential a long time ago, leave the date out.
Do not list every job you have ever held on you resumé or application forms. Include only recent and relevant work experience. Let employers know how long you worked at specific jobs, but try not to make it easy for them to guess your age. For example, if you worked for one employer for a long time, say that you worked for that employer for over 5 years (or 10 years, or whatever you think appropriate).
Many employers use social media tools to find and screen job candidates. If you are in an industry that commonly uses digital technology, consider setting up an online media presence, such as a profile on an online professional network. This will show that you are aware of current hiring practices and willing to use new technology.   
At this crucial stage of the hiring process, you do not want to give employers any reasons for screening you out before they have even met you.
Make it obvious you do not fit negative stereotypes
Employers may have concerns about your age, but human rights law prevents them from asking age-related questions. Let them know, indirectly, that their fears are unfounded.
For example:
Look energetic and confident. Be enthusiastic about your work. Share examples of times you have taken informed risks.
Show that you are a productive worker. Talk about your performance record and any recognition you have received.
If the job is physically demanding, talk about things you have done recently that required as much or more physical stamina and strength.
Talk about how this job fits into your career plans. Let them know you will stay with the job at least as long as most other employees, if that's true.
Talk about your interest in new techniques and technologies. Let employers know that you are willing and able to learn new skills.
Talk about your commitment or good attendance record. Your references should be people who can support your statements.
If your supervisor might be much younger than you, talk about situations where you have worked successfully with younger people.
Dress in a way that is up to date without looking like you are trying too hard. Consider your clothing, shoes, grooming, and the way you hold and express yourself. Your goal is to look like your skills and ideas are current, not to look younger than you are.
By proactively addressing potential concerns, you can keep the focus on what you have to offer.
Know your rights
Age discrimination is against the law. In Alberta, if you are 18 or older, employers are not allowed to ask your age or other questions that might reveal your age.
If you think you have been discriminated against because of your age, you can contact the Canadian Human Rights Commission or the Alberta Human Rights and Citizenship Commission.
The Canadian Human Rights Commission deals with human rights inquiries and complaints involving federal government departments and agencies, Crown corporations, federally regulated industries (such as the prairie grain industry), banks, national airlines, and some inter-provincial agencies (such as inter-provincial transportation and telecommunication companies).
The Alberta Human Rights Commission deals with human rights inquiries and investigates complaints involving all other types of employers and service providers in Alberta.
Recognize your own value
Before you can convince others that your age is an asset rather than a liability, you need to believe it yourself.
Take some time to recognize the value of your skills and experience. If you do not feel confident, energetic, enthusiastic, or passionate about your work, try to find ways to reframe your thinking.
Ultimately, employers hire people they think will get the job done. If you believe you are the right person for the job, they are far more likely to believe it too.