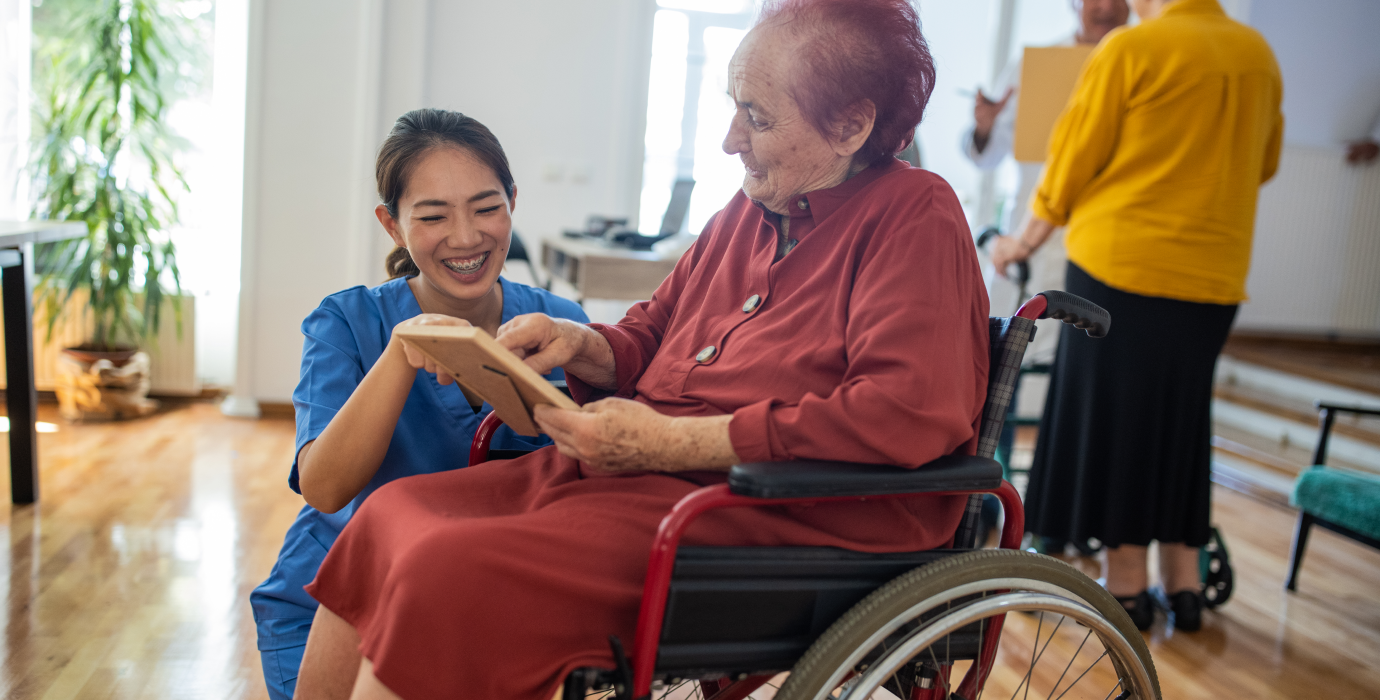 iStock.com/miodrag ignjatovic
These jobs are best for people who like to work with other people. In this job group, people like to take care of other people. They may help people find answers to problems or questions.
Here is a list of jobs where you help or serve people:
Counter persons serve customers at a counter. For example, in a fast food restaurant or coffee shop. Counter persons take customers' orders. This is an Easy Reading job profile.
Health care aides help people who are old or sick. They also help other people. For example, people who can't feed themselves or dress themselves. Health care aides often work in hospitals and nursing homes. Sometimes they go to people's homes, too. This is an Easy Reading job profile.
Servers work in restaurants, bars and coffee shops. They take customers' orders. They serve food and drinks to customers. Many servers work part time. This is an Easy Reading job profile.
Bartenders work in bars and restaurants. They mix drinks. They serve wine, beer, and liquor.
Buspersons work in restaurants and coffee shops. They help the servers. For example, buspersons may put the dishes and cutlery (knives, forks, and spoons) on the tables. They fill customers' glasses with water. They remove dirty dishes. They clean tables. They must be polite to the customers.
Hairstylists work in beauty salons and barber shops. They cut and style hair. They also answer questions and sell hair products.
Nail technicians shape and polish fingernails and toenails. Nail technicians may work in beauty salons or nail shops.
Nannies take care of babies and young children in people's homes. For example, a nanny dresses and feeds the children. Nannies play with the children. They make sure the children are safe.
Outdoor guides take people on outdoor trips. For example, rafting trips, hunting trips, fishing trips, and horseback riding trips.
Receptionists work in offices. Receptionists greet people. For example, they may say "Hello. How can I help you?" Receptionists give information and answer phones.
If you think you might like a job where you help or serve people, continue reading. You'll learn more about what it's like to work these jobs.
Complete the following exercises to learn more about jobs where you help or serve people. 
What will you do next?
Now you have 2 choices. 
1. You can read about other types of jobs
There are 7 other types of jobs to explore:
What other types of jobs interest you? It's good to have a few job choices. Review your check marks on the What Do You Like to Do? exercise. Did you choose other types of jobs? You can read about those jobs. You can also ask your career advisor or tutor to help you choose another type of job.
2. Make some job choices
You have made a list of job choices from the types of jobs that interest you. You are ready for the next step. Now read Narrow Down Your Job Choices. It has exercises to help you find the jobs that are best for you. You'll also learn how to find more information on your top job choices.